1. First Read your current Mystery Golden Grad Clues to determine who the mystery alum is!
2. Then scroll down and see our monthly Golden Grads in our archives. Have fun!
______________________________________________________

1. YOUR MYSTERY GOLDEN GRAD CLUE:
WHO IS THIS GOLDEN GRAD?
I am from Grantham, PA…
My major was "Sacred Music" and served as Class President at Messiah…
I participated in the Choral Society, Oratorio Society and Quartet…
I was active with Senate, Gospel Team, Platform Arts and Missionary Society…
My wife graduated from Messiah in 1957...
My 2 daughters graduated from Messiah…
All of my siblings attended Messiah College...
I worked at Messiah College…
I currently live in Mechanicsburg, PA.
WHO AM I?
__________________________________________________________________________________________________
2. MYSTERY GOLDEN GRAD ARCHIVES, Read Below:
SEND ME YOUR STORY - We CAN SAVE YOUR STORY FOR OTHERS ON OUR MESSIAH COLLEGE WEBSITE!
Spring 2011 Golden Alum: MARLIN WINGERT CLASS OF 1968
College memories....last a lifetime!

-Old Main's third floor was my dorm. Great intellectual dialogue was exchanged there. Persons named Beck, Cordell, Dick, Keener, and Yeatts were some of those involved.
-Dr. Kenneth B. Hoover (now 100 years old), was my General Biology instructor. He would say, "If you're walking the trails on campus, try not to tramp on any flowering plants." I still find myself observing these directions.

-Chemistry class was in the schoolhouse (now a parking lot) near Old Main and taught by Prof Wolgemuth. Genetics class had Mr. Esau and German had Mr. Meakle as instructors.
-I feel privileged to have been a member of Messiah's soccer and varsity basketball teams, both coached by Luke Drescher. One of our cheerleaders became my date and later my wife. I still look forward to being on campus for various activities. As time has rolled by, I consider my years as a student at Messiah College to be the most valuable years of my life!
Winter 2011 Golden Alum: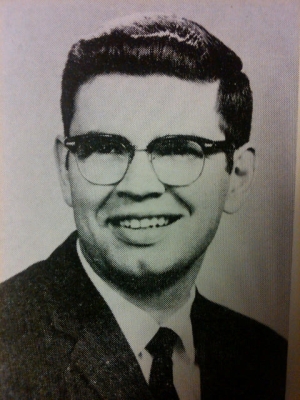 In the late summer after my sophomore high school year my life was suddenly changed because my parents decided that I should now finish my high school years at our denominational high school located in Oklahoma. In checking with some students there I soon found out the school was located "out in the boonies!" This definitely didn't fit into my lifestyle as a fun loving boy growing up in a medium sized town in Ohio. Knowing I was destined to be changing schools I quickly make inquiries about the academy at Messiah. Within three weeks I was on my way to Messiah to enter my junior year at Messiah Academy. Next to accepting Jesus as my Savior, this was the biggest and best decision of my young life.
Coming from a high school class of nearly 2000 to a class size of 50 was quite an adjustment. The faculty and staff worked in both the academy and the Junior College and I was soon known by all of them. As I was always looking for fun and good times, the staff and faculty seemed to always look out for me, trying to detour some questionable activities and pointing out a better way to take in life. For their concerns about me and my young life I will always be eternally grateful. They taught me a Christ like attitude both academically and socially. It was in those years that I began to develop a Christian lifestyle that led me to dedicate my life's vocation to Christian service.
Life at Grantham was great. Being on my own at 15 years of age and away from parental guidance presented many challenges. Those wonderful dedicated teachers and staff gave me so much love and care!
The one thing that bothered me was that my father, uncle, grandfather and great grandfather were ministers in the church so I was tagged as a PK. I could not hide as an unknown young boy. My name carried an identity and some of the mischievous and questionable activities tended to get me into trouble. There were many fun times and even after 50 years people still remember and laugh with me at some of our antics.
One of the fun experiences I remember was helping the Von Trapp Family unload their wardrobe trunks from their traveling truck to the Alumni Auditorium. Now this was before they were famous. The College had booked them for a concert. I remember the children and their strange clothes. The Captain was giving orders in German and Maria was busy guiding the children with loving concern. After the work was done Captain Von Trapp thanked us in English and because I didn't know they would become famous, I forgot to get an autograph!
Being a part of the Gospel Team program was a growing experience. I was in charge of the jail ministry at Carlisle. The sheriff took a liking to me and gave me many interesting times in that jail. Sharing a coke in his office was a special treat for me. One time he put me in a cell with three guys and told me to straighten them out! Another time I started the service with the words, "I'm glad to see you all here." This brought cat calls from the prisoners. Later in life I served as a volunteer chaplain in a large prison and drew on my training in that Gospel Team ministry.
With the help of some of my fellow classmates I took it upon myself to send for a rather large order of fireworks for a fun time on campus. These were sent by rail and when I went to the station in Mechanicsburg to pick them up the station master told me these were illegal and that I couldn't have them. I told him we had paid for them and they were ours. As we left the station he told us we were in trouble. Upon arriving back on campus we quickly distributed the fireworks among our classmates. The girls took them to their dorm rooms as did the boys. We were preparing for a grand celebration that night! That afternoon the State Police arrived on campus asking for me as my name was reported by the station master. Right in front of Old Main it must have made quite a sight as the police questioned me with some of the student body watching. The girls were so frightened that most of their stash was quickly taken down and thrown into water off the swinging bridge. We boys surrendered most of our stash except for one box of cherry bombs hidden in a day student's car. Those cherry bombs were heard for many weeks after I had been summoned to the Dean's office for my prank.
I am happy to say that our family is now a four generation Messiah family. My father from the Academy, I from the Academy and College, each of our four children from College and our granddaughter is in her second year at Messiah. Messiah has been good to us! I met my soul mate at Messiah and recently we celebrated 53 years of serving God in Africa, Honduras and here in the US. I was ordained as a minister in 1962. Five years ago my wife and I both retired from the ministry and now thoroughly enjoy serving the Lord in our local church in Northwestern PA.
Messiah certainty has influenced my life for good. The time taken by those who were my teachers to share with me personally as I moved from a young boy toward manhood has done much to shape my life. The financial sacrifice many of the staff and teachers made to be a part of Messiah in the 40's, 50's and 60's has been an inspiration to me. I am grateful that God directed my path to Grantham where many wonderful people became lifelong friends.
__________________________________________________________________________________________________