Wednesday September 30, 2020
You're invited to join the Heritage Society:
There are many reasons to support Messiah University. Perhaps the most compelling reason is that every gift supports our mission of educating men and women toward maturity of intellect, character, and Christian faith in preparation for lives of service, leadership, and reconciliation in church and society. Messiah University's first president, S.R. Smith, was one of the strongest advocates in the Brethren in Christ denomination for the creation of a church-affiliated school. Smith donated his home in Harrisburg to provide a building for lodging and classroom space for Messiah's first term. Eight students were enrolled at that time. In 1911, S.R. Smith donated approximately 5 acres of land so that the growing school could be relocated in Grantham, close to his own home and his noodle factory. Revenue from Smith's noodle factory helped to sustain the fledgling school in these early years and S.R. Smith's philanthropy was the beginning of a robust legacy of sacrificial giving, in which countless people have given to help make a Messiah education possible.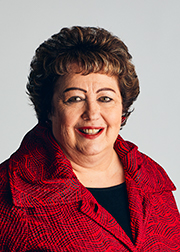 To read a letter from our President please click here.
Please browse through the links across the top to discover the many reasons to support Messiah University. And, feel free to share with us what inspires you to give!
What is the Heritage Society?
The Messiah University Heritage Society is a group of special friends who have remembered the University in their estate plans through wills, deferred gift arrangements, or endowed funds.
How Can I Become a Member?
Although not exhaustive, the following is a list of the most common ways you can become a Heritage Society member:
Include the University in your will.
Establish a gift annuity or charitable trust.
Create an endowed scholarship fund.
Name the University as a beneficiary of a life insurance policy, pension plan, or IRA.
Your membership in the Heritage Society will encourage others who also may wish to support Messiah University through planned giving. If you have already included Messiah University in your estate plans but have not notified the University, we encourage you to do so. This makes it possible for us to thank you for remembering the University in your long range planning and to keep you up-to-date about what is happening at Messiah. (Should your situation or estate plans change, please feel free to contact us about that as well.)
Messiah University faithfully honors requests for anonymous membership.
Enjoy the Benefits
Create an enduring legacy that will help preserve Messiah's rich heritage and ensure its promising future for generations to come.
Be included in Heritage Society-sponsored events, such as bus trips, dinner concerts, etc.
Receive an invitation to the annual Legacy Dinner.
Be remembered on your birthday
Receive the annual President's Report
Heritage Society News